All silver jewelry of Sama Sama Silver is handmade by my silversmith in Bali.
Bali, a beautiful Island with a spectacular culture and amazingly welcoming people.
I now live in Bali for four years and am well established. Having nasi campur as breakfast has become one of the most normal things in the world. Burning in the bright sun at the traffic light is a daily incident to deal with. And then I'm not even talking about the crowds on the road, so even if you slalom through the traffic you will not arrive on time on location. Fortunately, all people here have some kind of 'relaxed' mentality so they won't complain if you're a little bit later. Also, the crowds in traffic are soon forgotten when you sit on the beach with a Bintang in your hand in the evening.  Driving around on my motorbike along the bright green rice fields, then to the coast where I see the clear blue water already in the distance, I realize I am super lucky that I can call Bali my home.

The start of Sama Sama Silver
A few years ago, I decided to exchange my life in The Netherlands for Bali. Together with my good friend Kyra I had the idea to start a business in silver jewelry. First it started a bit as a joke, we were just talking about how cool it would be if we would move to Bali and start our own jewelry brand. We both liked silver jewelry a lot and we wanted to make our own designs of it, like Siau, a beautiful ring. I hear you think, but why Bali?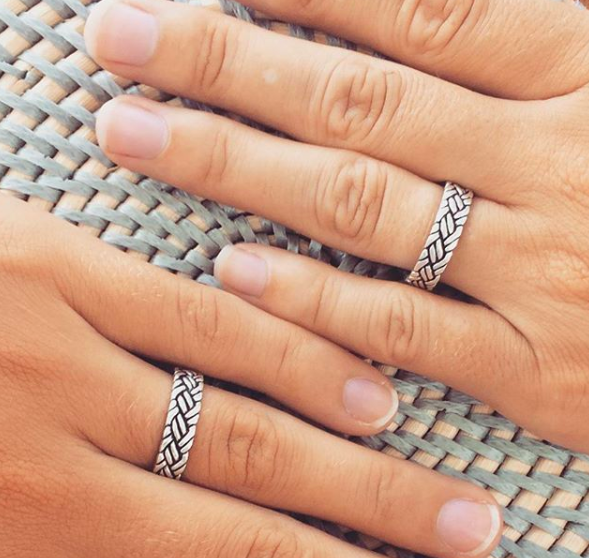 Two years before we came up with Sama Sama Silver, we both did an internship in Bali. This was the moment we were definitely sure we would come back to this beautiful Island. So at one night, I called Kyra and I asked her what she would say about really going to Bali and start Sama Sama Silver. Guess what?! She was just as excited as I was, so we started working a lot in Holland to save enough money to go and start up the business. And there we were! Back in Bali and starting to sell our first bracelets.
Silver jewerly in Bali
Silverwork from Bali is part of an ancient tradition. The first Balinese silver jewelry were copies of traditional gold jewerly. Before, Balinese people only used beautiful silver bowls for their temple offerings, but they won't wear silver for jewerly. They prefer gold for jewelry. As a result, silver jewelry developed only recently and has always been an export product.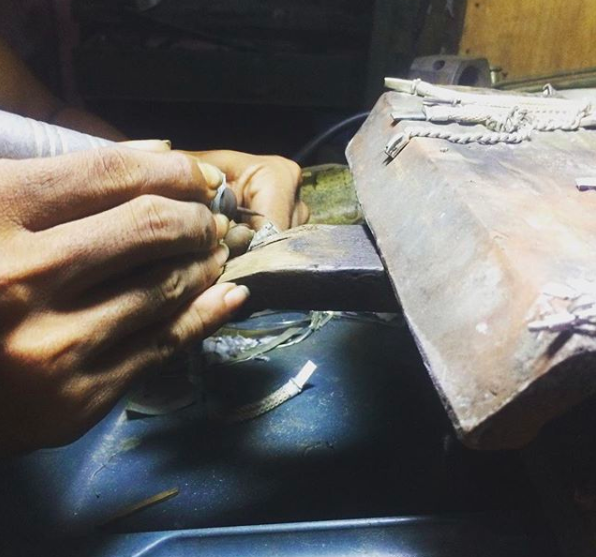 Nowadays, buyers come to Bali from all over the world. The skills of the craftsmen and silversmiths attract the attention of all these people. Most sterling silver of Bali is produced in the outskirts of the village called Celuk. Celuk has been known for its gold and silver jewelry craftsmanship for a century. The silversmiths have been passing down their expertise to their descendants until today.
Also a lot of silversmiths from Java work in Bali, they also make such beautiful silverwork of high quality. Sama Sama Silver works together with two silversmiths. Yoga, a Balinese silversmith and Konang, from Java. Both make all jewelry piece by piece by hand.
Sama Sama Silver now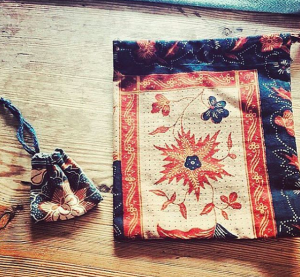 A year ago, Kyra moved back to The Netherlands for work and I took over Sama Sama Silver by myself. I love the work, weekly, I visit Konang to check how the process is going. Also, I have some pretty cool new ideas and I can not wait for it to be ready!
The new idea has to do with travelling, which I love! I always put something of myself in the jewelry, so it stays unique and personal. This time it is the passion for travelling that you will find back in the new jewelry. At the moment, I am waiting for Yoga finishing the unique lock that I designed for the new bracelets. Soon I will show you the results!
Not only my silversmiths and I work for Sama Sama Silver, also my mom is helping to make Sama Sama Silver unique.
She makes beautiful small bags from traditional sarongs from Bali, in this bags, she sends the jewelry to the customers.
Everything of Sama Sama Silver is handmade, the personal touch that Sama Sama Silver gets makes this brand unique!